Getting to Hawaii
Honolulu International Airport (HNL) on Oahu is Hawaii's major airport, serving as the entry point for most of Hawaii's visitors. All major domestic carriers and many international carriers serve Oahu, so you can get here from just about anywhere.
There are also direct flights from the US mainland to Maui, Kauai, and Hawaii's Big Island, but for the most part, you may need to connect through Oahu to get to the neighbouring islands including Lanai and Molokai.There are daily ferry services from Lahaina Harbor in Maui to both Manele Bay in Lanai and Kaunakakai Harbor in Molokai.
Flight times from Honolulu International Airport (HNL), Oahu to:
Lihue Airport (LIH), Kauai: 30 minutes
Kahului Airport (OGG), Maui: 30 minutes
Kapalua-West Maui Airport (JHM), Maui: 30 minutes
Molokai Airport (MKK), Molokai: 20 minutes
Lanai Airport (LNY), Lanai: 25 minutes
Hilo International Airport (ITO), Hawaii's Big Island: 50 minutes
Kona International Airport (KOA), Hawaii's Big Island: 45 minutes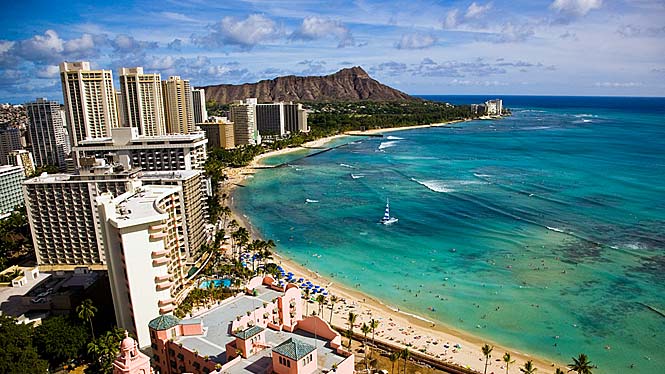 Staying in Hawaii
Finding accommodation is easy in Hawaii. Choose from historic hotels, luxury resorts, charming holiday rentals, bed and breakfasts, hostels and rental condos (apartments).
Any time of the year is a good time to visit Hawaii. Summer, between April and November, is warmer and drier (average temperature is 24˚-31˚ C) while winter, between December and March, is a bit cooler (20˚-27˚ C). Trade winds keep things comfortable year-round.
Travelling in Hawaii
To really experience all that Hawaii offers, you should consider renting a car. Reserve your rental vehicles in advance because quantities can be limited on some islands. Many visitors also enjoy taking bus tours to conveniently explore the Islands. Shuttles, taxis and public transport are available on most islands.
Hawaii's Environment
The natural beauty of Hawaii's fragile environment comes from its geographical isolation from other ecosystems. Bringing plants, produce or animals can introduce pests and non-endemic species that could be destructive to Hawaii's environment.
The Department of Agriculture enforces strict rules regarding the exportation of uninspected plants and animals and requires a declaration form for each person arriving in Hawaii. When departing, your luggage must pass a pre-flight screening for uninspected fruits and plants. You are welcome to take inspected fresh flowers and fruits home. Items purchased at the airport or mailed home from local vendors are inspected for you.
Useful Phone Numbers and Links
The area code for the state of Hawaii is (808)
Hawaii Visitors and Convention Bureau: (808) 923-1811
Marriage License and Civil Unions: (808) 586-4545
Honolulu International Airport Visitor Information: (808) 836-6413
Agriculture Inspection: (808) 832-0566
Camping Permits (State Parks): (808) 587-0300