Etihad will begin flying two-class Boeing 787s from mid-2016, with the pared-back Dreamliners swapping their private first class suites (below) for substantially more economy seats.
Read: Etihad's Boeing 787 first class suite
The two-class configuration will retain the same number of 28 Business Studio business class nooks (below) but raise the economy count from 195 to 271 seats.
A spokesperson for Etihad Airways confirmed to Australian Business Traveller that the first of the 'first-free' Boeing 787-9s will be seen on the airline's Abu Dhabi-Dusseldorf route from May 1st 2016, to be followed by Perth from June 1st, Shanghai and Istanbul from August 1st, and Johannesburg from November 1st.
The Gulf carrier is one of Boeing's largest airline customer for the Dreamliner with 71 of the next-gen jets on order, broken down into 41 of the Boeing 787-9 and 30 of the longer 787-10.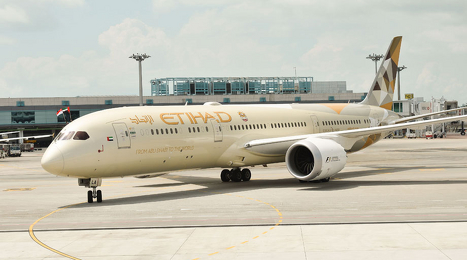 Speaking to Australian Business Traveller at the 2014 launch of the airline's Boeing 787 and Airbus A380 fleet, Etihad President and CEO James Hogan said the 787-9 fleet would be divided into 20 three-class configurations and 21 with a two-class layout.
Hogan added the arrangement would be similar to Etihad's current split of three-class and two-class Boeing 777s.
"The three-class Boeing 787s will be primarily placed into capital cities where we believe there is a strong demand for premium travel" Hogan told Australian Business Traveller.
"On secondary cities and gateways where we don't see the demand we will operate two-class."
Several airlines are drawing down their first class cabins on future jets in favour of the latest generation of business class, including United's new Boeing 777-300ERs, Cathay Pacific's Airbus A350-1000 and Qatar's promised 'business class bedroom' for its Airbus A350 and Boeing 787 fleet.
At the same time, Etihad's superlative Airbus A380 first class apartments are driving Emirates and Singapore Airlines to upgrade their own superjumbo suites.