Las Vegas is the fastest growing city in the United States.
The gambling Mecca, Las Vegas has also become home for many prominent Conventions/Events and simultaneously became a prominent family vacation destination.
Las Vegas has something to please everyone and it is usually available 24 hours a day.
There is a saying in Las Vegas:
If you do not find what you are looking for, please wait one moment, it is probably already under construction.
Casinos/Hotels in Las Vegas seem to know no boundaries in their creativeness and grandiose projects.
The Casinos/Hotels owners' imaginations appear limitless.
Almost annually, a new world largest Casino appears on the Las Vegas horizon.
Seventeen out of the top twenty worlds largest hotels reside within a five-mile radius of each other in Las Vegas.
Including several casinos under construction, Las Vegas is fast becoming the Convention and Resort headquarters for the world.
There are over 100,000 hotel and motel rooms available in the Las Vegas area.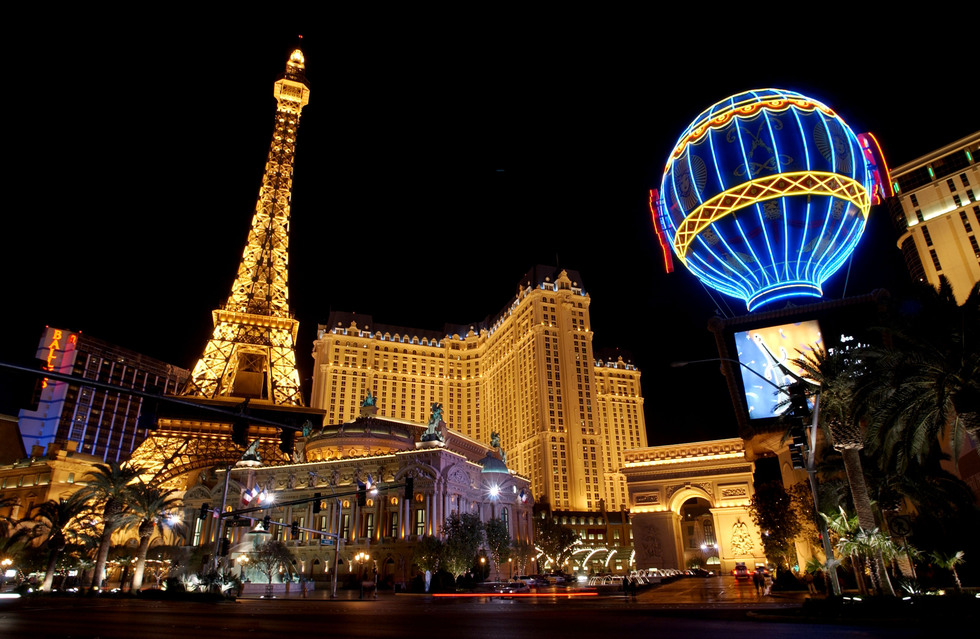 Hotels
In Las Vegas, the hotels are the attractions!
Each with their own selection of gastronomic restaurants, extravagant theatres, mile long casino floors, mind blowing nightclubs, luxurious spas, indulgent shopping malls and gob-smacking attractions.
With many hotels boasting international themes, a stroll along The Strip will take you around the world!
Check out exploding volcanoes, Venetian canals and world-class art galleries all on one street.
Visit one of the world's biggest hotels- the MGM Grand!
And take a camera, because no one at home will believe what you've seen.
Downtown
A well-priced alternative to The Strip, the smaller-sized hotels of Downtown Las Vegas are packed with excellent value and entertainment.
Downtown is home to "The Fremont Street Experience" – a free evening show (on the hour) featuring an overhead light canopy stretching the length of five football fields.
The world's biggest LCD screen comes to life with spectacular animations set to concert quality sound. Ten hotel casinos are located under the canopy itself.
Shopping
Los Vegas is a world-class premium shopping destination.
McCarran International Airport – Flight times
Atlanta 4 hours
Chicago 3.5 hours
Dallas 2.5 hours
Denver 1.5 hours
Honolulu 6 hours
Houston 3 hours
Los Angelas 45 minutes
Minneapolis 3 hours
New Orleans 3 hours 45 minutes
New York City 5 hours
Phoenix 1 hour
San Diago 55 minutes
San Francisco 2 hours 15 minutes
Seattle 2 hours 25 minutes
Sam Boyd Stadium
Annual events and building tenants are the key to our success as a public assembly facility. They include UNLV Intercollegiate Athletic events for both men and women, Professional Bull Riders, National Finals Rodeo, Vegoose Music Festival, The Pioneer Las Vegas Bowl, family shows, Supercross, Monster Trucks, special event concerts, festivals as well as conventions and private parties.