The world's Top 10 Airports of 2015, which were nominated by airline customers from across the world during the 9-month survey period.
The World Airport Awards are the most prestigious accolades for the airport industry, and a global benchmark of airport excellence widely known as the Passengers Choice Awards.
1. SINGAPORE CHANGI AIRPORT
Singapore Changi Airport connects customers to over 200 destinations worldwide, with 5000 arrivals and departures a week by 80 international airlines.
Mr Lee Seow Hiang, CEO of Changi Airport Group
"It is a great honour to be named World's Best Airport by Skytrax for the third year running. This recognition is particularly pleasing for us as it comes at a time of transformation at Changi Airport.
2. INCHEON INTERNATIONAL AIRPORT
Incheon International Airport is the largest airport in South Korea and one of the busiest airports in the world. It is a former winner of the Airport of the Year title at the World Airport Awards.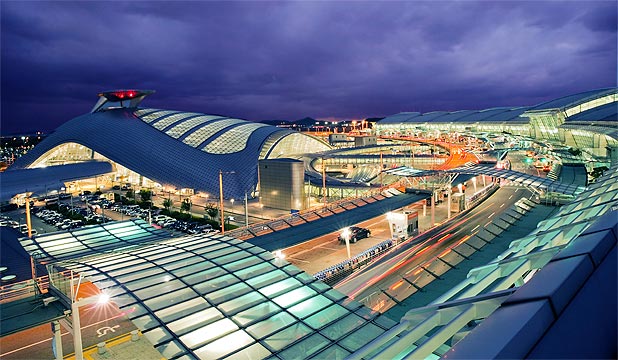 Pictured Incheon International Airport
3. MUNICH AIRPORT
Munich Airport is the second busiest airport in Germany and the secondary hub for Lufthansa German Airlines. Munich Airport has connections to destinations all over the world, but much more besides. With over 150 retail stores and some 50 places where you can eat and drink, it's like a city center, offering travelers and visitors plenty to see and do.
4. HONG KONG INT'L AIRPORT
Hong Kong International Airport serves over 100 airlines operating flights to about 180 locations worldwide, including 44 destinations on the Chinese Mainland. It is a former, multiple winner of the Airport of the Year title at the World Airport Awards.
5. TOKYO INT'L AIRPORT HANEDA
Boasting both domestic and international terminals, Tokyo International Airport Haneda plays a very important role in furthering Japan's development as a tourism-oriented nation ANA
6. ZURICH AIRPORT
Zürich Airport is the largest international airport of Switzerland and is the principal hub for Swiss International Air Lines.
7. CENTRAL JAPAN INTERNATIONAL AIRPORT
In 2014, 9.8 million passengers travelled through Central Japan International Airport in Nagoya, better known as Centrair.
The airport has a large domestic traffic percentage, with a number of regional routes operated to Asiana cities such as Bangkok and Singapore.
Longer haul routes include Helsinki, Frankfurt, Honolulu and Detroit.
8. LONDON HEATHROW AIRPORT
London Heathrow Airport is the busiest airport in the UK and busiest airport in Europe by passenger traffic, and having been world's busiest airport for international passengers, it has recently lost this title to Dubai Airport.
9. AMSTERDAM SCHIPHOL AIRPORT
In 2014, 55 million passengers travelled via Amsterdam Airport Schiphol, which describes itself as an AirportCity, much more than just a place where you wait until your flight takes off. Turkish Airlines
10. BEIJING CAPITAL INT'L AIRPORT
Beijing Capital International Airport is the main international airport serving Beijing and from 2014, the second-busiest airport in the world.