If you are overseas, the last thing you want to have to worry about is checking your carry-on bag at the last minute because it exceeds the size or weight restrictions of your airline.
Every airline will have different allowances and they can often change without notice.
Three of the major international airlines American Airlines, Delta, and United all impose similar size restrictions for carry-on bags, with American Airlines being the most generous with a total bag size of 115cm (56cm long x 36cm wide x 23cm tall)
Delta allows bags up to a total size of 114cmvii and United allows bags up to 113cm.
These variations may seem small, but they could mean the difference between boarding without any hiccups and having to deal with the frustration of checking your carry-on.
Low cost US-based airlines, Frontier and Spirit, have started charging passengers for bringing their carry-on bags in the cabin.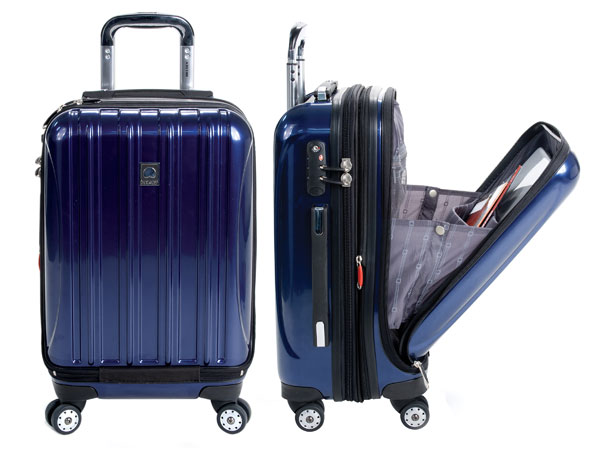 Frontier charge an additional $25 per carry-on when you initially purchase your ticket and $30 if you wait to pay for your bag at the time of check-in.
Spirit charges between $26 and $35 at the time of ticket purchase and between $36 and $45 during check-in .
While none of the Australian-based airlines have followed in the footsteps of their American counterparts, this highlights the need to thoroughly understand the luggage rules wherever you happen to be flying.
Hand luggage or cabin baggage (also commonly referred to as carry-on in North America) is the type of luggage that passengers are allowed to carry along in the passenger compartment of a vehicle instead of moving to the cargo compartment.
Passengers are allowed to carry a limited number of smaller bags with them in the vehicle and contain valuables and items needed during the journey.
There is normally storage space provided for hand luggage, either under seating, or in overhead lockers.
Hand baggage allowance is a topic frequently discussed in context of commercial air travel.
On one hand, passengers may want to have more of their possessions at hand during flight, skip often time-consuming baggage claim process, and avoid the risk of having their checked baggage lost or damaged.
On the other hand, safety concerns, takeoff weight limitations and financial incentives cause airlines to impose limits on how much and what can a passenger take into the cabin of aircraft.
Luggage Gauge
The International Air Transport Association (IATA) sets guidelines for cabin baggage/hand luggage/carry-on luggage size.
They are not mandatory, however, and individual airlines can and do vary their requirements.
The IATA guideline at one time stated:
Cabin baggage should have a maximum length of 56 cm (22 inches), width of 45 cm (18 inches) and depth of 25 cm (10 inches) including all handles, side pockets, wheels etc.
Carry-on weight for bags may vary between classes and airlines.
As a general guide, Economy Class passengers are allowed to carry one bag at 5kg to 7kg per person while Business and First Class passengers are often privy to a more generous baggage allowance or extra pieces.