Miami lies on the southeast side of the Florida Peninsula, separated from the Atlantic Ocean by the Biscayne Bay lagoon and Miami Beach.
The city's pleasant winter climate makes it a very popular holiday destination, particularly for those in the northern regions of the country.
The beaches of Greater Miami are a major highlight, as is the Art Deco architecture of Miami Beach.
Outside the city but nearby is Everglades National Park, known for its unique ecosystem and wildlife.
Miami Beach
Is actually a separate municipality from Miami.
It is located on an island, connected to the mainland by a series of bridges. The area is known for its popular beaches and the Art Deco District, with pastel buildings from the 1930s sporting classic neon signs.
An expensive tourist district, this area features numerous beachfront restaurants, shops, hotels, and plenty of sunbathing opportunities.
The most popular street in the area is Ocean Drive, a section of road located along the oceanfront and home to some beautiful Art Deco buildings. One block inland and paralleling Ocean Drive is Collins Avenue.
Collins Avenue is actually State Road A1A, and is the main oceanfront street in Miami Beach, joining numerous neighborhoods. Here visitors will find trendy and upper end restaurants, shopping, and hotels.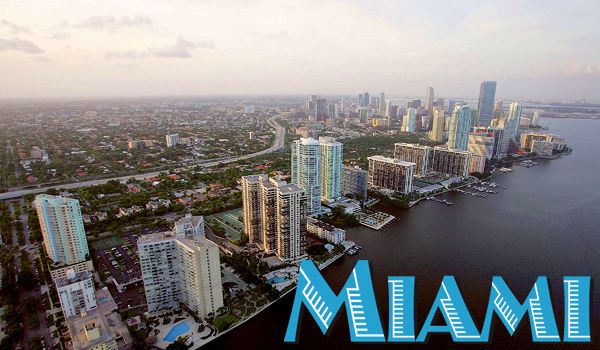 The Art Deco District
In Miami Beach brings back memories of an earlier time in Florida with its wonderfully restored 1930s Art Deco buildings.
These pastel colored historic structures display neon signs and awnings that cover outdoor dining areas. Many of them front Ocean Drive, overlooking the beach and ocean.
South Beach
Located at the southern end of Miami Beach where the Art Deco buildings line the waterfront road, this is the most famous and popular section of Miami Beach.
In summer the beach is a popular draw for locals and tourists and in winter the area is simply a popular place to stroll around.
Ocean Drive
Runs along the oceanfront in Miami Beach, passing the historic Art Deco buildings and the famous strip of sand known as South Beach. It is a popular place both day and night for a slow cruise and some drive by sightseeing.
For those with a special interest in these lovely pastel colored, 1920s and 1930s Art Deco buildings, some of the most notable structures are the Beacon (732 Ocean Drive; by Henry O. Nelson, 1926), the Colony Hotel (736 Ocean Drive; by Henry Hohauser, 1936), Waldorf Towers (860 Ocean Drive; by Albert Anis, 1937), the Breakwater (940 Ocean Drive; by Anton Skislewicz, 1939), the Cardozo (1300 Ocean Drive; by Henry Hohauser, 1939), which is busy night and day, and the Cavalier (1320 Ocean Drive; by Roy F. France, 1936).
Bayside Marketplace
is a large outdoor style mall with more than 150 specialty and tourist shops, numerous cafes and restaurants, and daily live entertainment.
Visitors will find some well known chain stores as well as many unique, one of a kind places. The marketplace draws locals as well as tourists.
As may be evident in the name, the mall is located along Miami's waterfront, looking out over docks and boats.
Many people come here simply to soak up the atmosphere. Tour boats leave from here, visiting locations around Biscayne Bay. As well, there is a water taxi service to Miami Beach and downtown hotels located in the area.
Bayfront Park
On the east side of Biscayne Boulevard, was redesigned in the 1980s. An attractive feature is the electronically controlled Pepper Fountain.
Other highlights include an amphitheatre used for musical performances of all kinds, a tower for laser illuminations, and three important monuments: the Torch of Friendship, symbolising Miami's relationships with the countries of Central and South America; the World War II Memorial; and the Challenger Memorial, commemorating the crew of the Challenger spacecraft which exploded in 1986.
The Vizcaya Museum and Gardens
Is one of Miami's greatest treasures. The architecture, the grounds, and the artwork it contains are all worth the trip to visit this beautiful place.
This estate was the former winter home of early 20th century industrialist, James Deering. Built in 1916, the mansion features 34 rooms arranged around a central courtyard. This 28-acre estate and Italian Renaissance-style villa is filled with European furniture and decorative arts from the 15th to 19th century.
It took more than 1,100 workers and craftsmen to complete the Vizcaya project, many of whom were brought over from Europe to ensure authenticity in design.
The gardens contain a number of Italian and French fountains, pools and sculptures. A breakwater at the base of the steps leading into Biscayne Bay is carved into the form of female figures. The name "Vizcaya" is a Basque word meaning "an elevated place."
The estate has hosted a number of world leaders and important historical events including the meeting between Pope John Paul II and the former president Reagan in 1987 as well as Queen Elizabeth II during her 1991 tour of America.
Little Havana
The Cuban district of Miami, isn't known for its wealth of tourist attractions but more for its distinctive cultural flavor.
There are restaurants, specialty food shops, and Latin music drifting through the air. Calle Ocho is the main thoroughfare running through the district and home to much of the activity, but the district spreads well beyond into the surrounding streets and avenues
For people watching, the area offers a great deal of entertainment. There are many open air areas where people gather to socialize.
Murals on the sides of walls show important Cuban figures and scenes of daily life. And of course, this is the place in Miami to come for Cuban cuisine.
The American Airlines Arena
Is the home of the NBA's Miami Heat. It is also the main venue for large concerts and other special events, including top name singers and performers.
It can hold more than 19,000 people. The structure itself, opened in 1999 has been awarded the Leed Green Building Certification for being an energy efficient building.
It stands out prominently on the waterfront in a modern and developing area of downtown.
Zoo Miami
Houses more than 2,000 wild animals in a cageless environment that gives the animals' similar settings to their natural habitats, and visitors get the feeling of embarking on an safari. Large, open-air exhibits allow visitors to enjoy endangered wildlife at a safe yet close range.
This is the only zoo in the continental United States located in a subtropical climate. Although this is not a huge zoo, it often appeals to families, with lots of interaction available with the animals.
There is a children's zoo with all kinds of attractions, including camel rides.
In addition to the animals the zoo also contains many tropical plants and trees, and a large collection of orchids.
Getting There:
Miami International Airport, also known as MIA and historically Wilcox Field, is the primary airport serving the Miami area, United States.
The airport is in an unincorporated area in Miami-Dade County, Florida, eight miles (13 km) northwest of Downtown Miami, in metropolitan Miami, between the cities of Miami, Hialeah, Doral, Miami Springs, the village of Virginia Gardens, and the unincorporated Fontainebleau neighborhood.
It is South Florida's main airport for long-haul international flights. Miami International is also one of only eight U.S. airports to accommodate the Airbus A380 jumbo jet.
The airport is American Airlines' primary Latin American gateway, along with a domestic hub for its regional affiliate American Eagle, and Eastern Air Lines; cargo carriers UPS Airlines and FedEx Express; and charter airline Miami Air. It is a focus airport for Avianca, Frontier Airlines, LAN Airlines and its subsidiaries and TAM Brazilian Airlines, both for passengers and cargo operations.
Miami International Airport has passenger and cargo flights to cities throughout the Americas, Europe and Western Asia, as well as cargo flights to East Asia.
Miami International Airport is the largest gateway between the United States and Latin America, and is one of the largest airline hubs in the United States, owing to its proximity to tourist attractions, local economic growth, large local Latin American and European populations, and strategic location to handle connecting traffic between North America, Latin America, and Europe.
In the past, it has been a hub for Braniff International Airways, Eastern Air Lines, Air Florida, the original National Airlines, the original Pan Am, United Airli