Walk into any luggage shop these days and the choices are plenty: ballistic nylon garment bags; colorful, mod-looking hard-shell carry-ons; high-end monogrammed duffels; and sleek leather trolleys a long way from the bulky trunks used centuries ago.
It's reported that as early as the Crusades soldiers used wooden boxes to carry weapons and armor traveling trunks were essential to hold personal belongings for an extended period of time.
In the mid- to late-1800s, as long-distance travel became popular via steam vessels such as trains and ships, so did steamer trunks.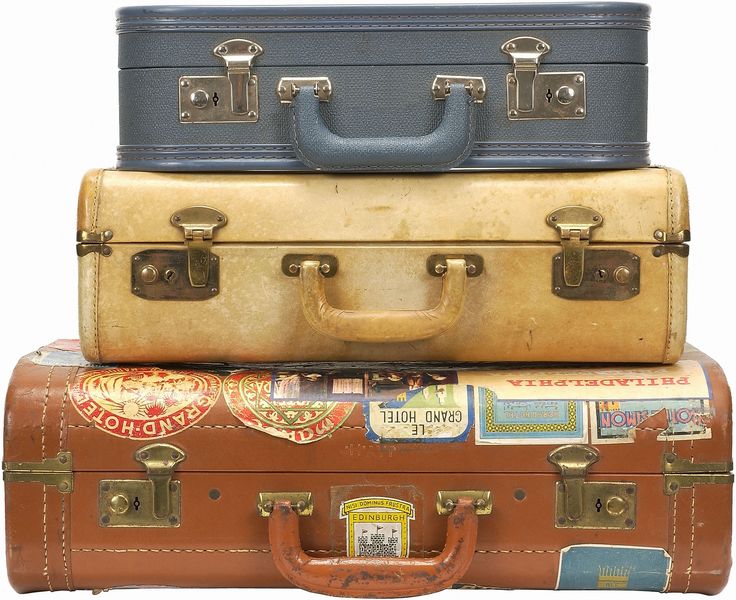 The most popular and iconic steamer trunk was a large, rectangular model with a flat top, favored for its durability and ideal for being stowed vertically or horizontally for easy transport.
Typically, these steamer trunks were adorned with leather, canvas or patterned paper and secured with brass or iron.
Two notable luxury French trunk makers, Goyard and Louis Vuitton, crafted steamer trunks for French royalty and wealthy customers during the travel boom in the mid-1800s. Typically covered in canvas to make them lightweight and waterproof, both brands added distinct patterns to protect from imitators Goyard added a geometric pattern, and Louis Vuitton the famous LV monogram.
Steamer trunks stayed popular until about the 1920s but were replaced with more compact, portable suitcases as long-distance travel by plane emerged.
In 1920, the Shwayder Bros. Trunk Manufacturing Co. of Denver, Colo., launched its first affordable coordinated luggage and in 1941 developed Samsonite Streamlite, suitcases made with a revolutionary vulcanized material and tapered corners.
The company's ads claimed the luggage was "strong enough to stand on," and a few years later, owner Jesse Shwayder changed the company name to Samsonite, after the biblical giant, Samson.
As commercial air travel started to boom for both business and pleasure, so did the demand for better baggage.
Amazingly, not until 1970 did we get the idea to put wheels on luggage. Bernard Sadow, the founder of U.S. Luggage (now the parent company of Briggs & Riley) was traveling from Aruba with his family, carrying two heavy suitcases, when he noticed a skid nearby and realized that what luggage needed was wheels.
Sadow made a prototype of a suitcase with four caster wheels made from plastic and metal and a rope to pull it along.
Sadow's "Luggage that Glides!" hit Macy's stores in October 1970, but it was not until 1987 that Northwest Airlines Boeing 747 pilot Bob Plath invented the first rolled luggage with two wheels and an extending handle, changing the orientation of the suitcase from horizontal to vertical.
"A major development in luggage, which changed the way people traveled, was the invention of the Rollaboard by Travelpro founder Bob Plath 26 years ago," says Michele Marini Pittenger, president of the Travel Goods Association.
Plath began selling his Rollaboard to flight crews, but travelers soon noticed airline personnel efficiently navigating the airport with ease, and a whole market for two-wheeled luggage was born.
The Rollaboard became so successful most airlines reconfigured their overhead space to accommodate the 22-inch carry-ons. This also allowed people to carry their own luggage and sparked a trend to pack lighter.
Bob Plath eventually left his job as a pilot and started the company Travelpro, which today is the premier luggage provider to flight crews and pilots of 90 airlines.
U.S. consumers spent an estimated $25.5 billion on travel goods in 2012, according to the Travel Goods Association.
Today, frequent travelers can choose from a slew of high-performance luggage options that are lighter, more durable and contain modern amenities such as TSA-friendly technology compartments and revolutionary wheels.
Carry-ons are the clear bag of choice these days for both frequent business travelers and leisure travelers, due to airline bag restrictions.
"Over the past 18 months, we've seen countless developments emerge to make travel easier, smarter and more fun," says the TGA's Pittenger.
"Even though one size rarely fits all, travel goods manufacturers are coming as close as possible with compressible luggage bags that expand or contract to fit what you've packed, leaving little extra room for the contents of your suitcase to shift in transit and enabling travellers to use the same bag for a weekend or two weeks away."
A leader in the compression category is Briggs & Riley's Baseline CX luggage, which allows travelers to pack up to 34 percent more while staying within airline carry-on requirements.
"We developed a mechanism that allows it to expand and contract without unzipping," says Richard Krulik, CEO of Briggs & Riley. "When finished packing, the bag goes down to the most compressed state."
Two-wheeled luggage used to be the norm, but over the past two years the travel goods industry has seen four-wheeled models gaining momentum.
Spinner luggage features four wheels instead of the standard two and easily moves 360 degrees for easy access along airplane aisles and whisking through the airport at record speed.