Mexico City has many attractions to explore with its rich and glorious Aztec heritage, an intriguing colonial past and exhilarating new world.
The city is divided into 16 delegaciones i.e. boroughs or districts, which are in turn subdivided into colonias or neighbourhoods.
Over a period of time, old towns like Coyoacán, San Angel and Tlalpan have been merged into the general, urban sprawl, but somehow they are still preserving their originality, charm and tradition.
Alameda Central
This is the oldest and largest attraction of the city. Now a park, originally it was used as an Aztec marketplace and execution site during the Spanish Inquisition. It borders the Palacio de Bellas Artes i.e. Palace of Fine Arts on the eastern side.
This palace houses a concert hall, museum and a theatre. Diego Rivera, a famous Mexican artist painted a mural of Alameda Central park named 'Sueño de una tarde dominical en la Alameda Central', in 1947.
Originally, the painting was housed in the Prado Hotel, but after the disastrous 1985 earthquake, it was shifted to Museo Mural de Diego Rivera.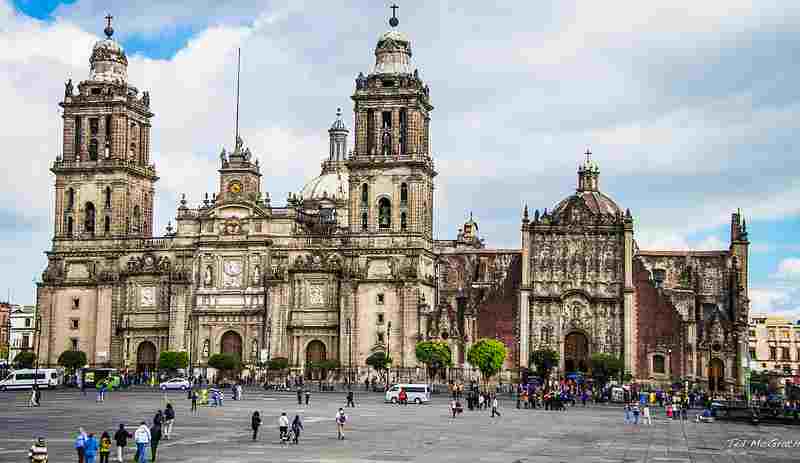 Metropolitan Cathedral
This is the oldest and largest Roman Catholic cathedral in Latin America.
The construction of this cathedral started in the 16th century, and it portrays a medley of baroque and neoclassical touches. It is situated atop a site that was originally meant for a temple dedicated to Huitzilopochtli, the Aztec God of War.
After the Spanish conquered Mexico, they razed much of the Aztec temples and used the stones to build their own constructions. In the case of Catedral Metropolitana, nearly all of the building blocks from the nearby Templo Mayor were used to build the cathedral.
Although this church has suffered irreparable damage over the centuries, it was designated World Monuments Fund's list of 100 Most Endangered Sites in 2000, thanks to the continuous preservation efforts of Mexico City government.
This superb historic attraction has four identical domes with a row of supporting columns, as well as innumerable paintings and altarpieces from the colonial era.
Plaza de las Tres Culturas
This plaza, also known as 'Square of the Three Cultures', gives an idea about the fusion of three different cultures in Mexico history situated at a single spot.
Attracting many tourists, it signifies a mixture of Aztec, Spanish and contemporary Mexican architecture. It has the ruins of an Aztec ceremonial site, the Santiago Tlatelolco Church, built in 1609 and the Santa Cruz de Tlatelolco College built in 1535.
Arena Mexico
Arena Mexico is famous for Lucha libre, a Mexican form of professional wrestling, endorsed by Consejo Mundial de Lucha Libre (CMLL).
This popular tourist attraction is more of an entertaining form of freestyle wrestling then a sport. Masked men (luchadores) in spandex costumes fight until the winner unmasks the loser to prove his victory.
This loud and rowdy wrestling provides a lot of excitement for the spectators.
The place is very close to Zona Rosa and Avenida Insurgentes.
Temple Mayor
Temple Mayor is an archaeological site located in the Zocalo next to Catedral Metropolitana. It was one of the largest and important temples of the Aztecs in their capital city of Tenochtitlan.
The remains of this ancient temple were found in 1978 after workers of an electric company unearthed the Aztec stone of the moon goddess Coyolxauhqui. This amazing archaeological discovery is a part of the Historic Centre of Mexico City and included in UNESCO's World Heritage List.
The Museum of the Templo Mayor, located within the precincts of the discovery site, houses all the archaeological materials excavated until date.
Zocalo
Zocalo square, formally known as the Plaza de la Constitution is located in the heart of the historic centre of Mexico City.
This stunning but often crowded square is mainly used for celebrations, protests, rallies, ceremonies and other festive events. It has the Catedral Metropolitana on the north side and Federal Treasury and National archives on the eastern side.
It is the main centre of attraction on the occasion of "Independence Day," which is celebrated on September 16th, every year.
La Feria de Chapultepec Mágico
This is a children's amusement park located in Chapultepec Park. With more than 50 rides, it is one of the most popular venues among children.
The park features the first roller-coaster in the country, an absolute must for those seeking a quick thrill! It also offers many other attractions at reasonable prices.
Angel de la Independencia
Commonly known as el Angel, the official name of the Angel of Independence is Columna de la Independencia.
This symbol of victory is situated on a roundabout over Paseo de la Reforma in downtown Mexico City. It was under construction between 1902 and 1910.
A famous landmark of the city, it is a gathering place for post-game celebrations and political rallies.
Basilica de Nuestra Senora de Guadalupe
Basilica de Nuestra Senora de Guadalupe is the holiest place of Catholicism in America. This church is built near a site where a Native American named Juan Diego claimed to have seen a vision of Our Lady of Guadalupe in a blue mantle in 1531.
Every year, around 12th of December, thousands of people visit the destination for the yearly celebration of Our Lady of Guadalupe's Feast day.
Getting There:
Mexico City International Airport Aeropuerto Internacional de la Ciudad de México, Aeropuerto Internacional Benito Juárez – Benito Juárez International Airport) is a commercial airport that serves greater Mexico City. It is Mexico's busiest and Latin America's second busiest airport by passenger traffic.

As the main hub for Mexico's largest airline Aeromexico the airport has become a Sky Team hub. It is also a hub for Aeromar,Interjet, Volaris and a focus city for Viva Aerobus.
On a typical day, more than 100,000 passengers pass through the airport to and from more than 100 destinations on three continents.