The Kangaroo Route is dead! Long live the kangaroo route!
In April, barring any last-minute hitches, Qantas will no longer touch ground in south-east Asia on its way from Australia to Europe.
The flight formerly known by the code QF1 will instead stop in the Middle Eastern city of Dubai, changing the way generations of Australians have found their way to London and beyond.
Malaysian Airlines Lounge, Kuala Lumpur International Airport
But the south-east Asia stopover is far from a thing of the past, with a veritable squadron of airlines continuing the tradition of the two-flight trip to the Continent and Britain.
And the potential for a stopover itself – breaking the journey with a night or two in a hub city – is actually greater than ever.
Flight Centre reports the number of Australians taking a quick stay in places such as Singapore and Hong Kong is on the up. South-east Asia tourism bodies report rises in visitor numbers from Australia (while not isolating stopover visitors from those travelling to their final destinations).
With Qantas all but out of the south-east Asia stopover picture, will those numbers continue to grow?
Flight Centre for one, believes so. Qantas may be about to abandon Singapore's Changi Airport as a hub to Europe, but its former codeshare partner, British Airways, continues to fly the kangaroo route – SYD-SIN-LHR. Singapore Airlines, which claims Changi as its home airport, does the same and more.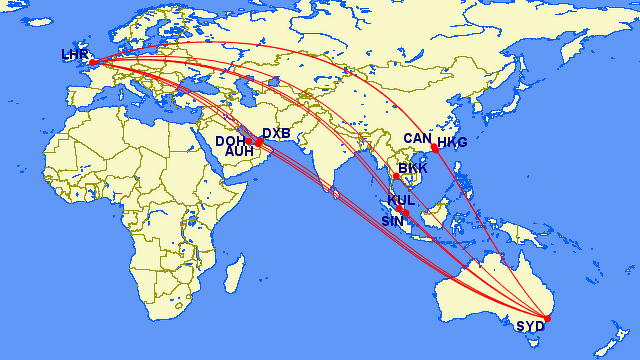 Shopping at Changi International Airport Singapore
Cathay and Virgin Atlantic fly to Europe and Britain from Australia through Hong Kong. Thai Airways continues to ferry Australians north via Bangkok.
The huge upside of Qantas flying into Dubai and sharing the onward journey to Europe with Emirates is the vast growth in destinations on offer; previously Qantas only flew to Heathrow in London.
Now it can offer customers – particularly those gathering points – more than 30 ports, just as Emirates does. Of course, if you're willing to stop more than once, the options are similarly huge.
China Southern, for instance, codeshares with Air France and KLM to allow Australian passengers to fly Australia-China-Paris or Amsterdam and on to most European cities including: Athens, Brussels, Budapest, Bucharest, Copenhagen, Dublin, Frankfurt, Helsinki, Istanbul, Lisbon, Luxembourg, Madrid, Manchester, Porto, Oslo, Prague, Rome, Sofia, Stockholm, Vienna, Warsaw, Zagreb and Zurich.
There are round-the-world fares, small airlines flying in and out of unusual places (to France from Perth via Mauritius, for instance) and an ever-changing landscape of airline alliances and specials the creative can explore for fun ways to their destination.
Tokyo's Narita Airport
But one stop through south-east Asia, the kangaroo route, remains the traditional and preferred passage to Britain and Europe for most Australians.
With that in mind, here's a guide – by no means a definitive one – of those flying it and the hubs through which they travel.
Changi International Airport, Singapore
Best airport in south-east Asia. Lots of room, plenty of seats, awesome retail and loads of free entertainment such as massage chairs and cinema-screen sports viewing.
Downside is the short leg on the way home – it's hard to get in a good rest.
Airline Singapore Airlines
From Adelaide, Brisbane, Melbourne, Perth and Sydney, while SilkAir flies directly from Darwin to Singapore.
To London, Manchester, Paris, Amsterdam, Zurich, Copenhagen, Moscow, Barcelona, Milan, Rome, Frankfurt, Munich and Istanbul.
Airline British Airways
From Sydney, Melbourne, Brisbane and Perth.
Codeshare British Airways codeshares with all oneworld member airlines, including Qantas, and has additional commercial agreements with Aer Lingus, Flybe, Loganair and Meridiana.
Alliance oneworld. Qantas is a oneworld member and can offer a one-ticket passage to Britain via Singapore with the second leg flown by British Airways.
Need to know Virgin Australia codeshares on Singapore Airlines flights from Adelaide, Perth and Darwin via Singapore to Europe. Starting in the first quarter of 2013, Virgin Australia will also codeshare on Singapore flights from Sydney,Melbourne and Brisbane via Singapore to Europe.
Stopover tip Arab Street
The area around Sultan Mosque has long been a hub of carpet salesmen and fabric merchants and is always worth a stroll for good quality manchester on the cheap.
But these days, it's also home to Singapore's unique, boutique fashion shopping, with little side street properties given over to teenage and twentysomething designer wares.
Hong Kong International Airport, China
Punters lament that it's big on shops and light on chairs. Seating is found mostly near food, where it can be monetised. Beautiful lounges for those with access, however.
Airline Cathay Pacific
From Sydney, Melbourne, Brisbane, Adelaide, Cairns and Perth.
To Paris, Frankfurt, Milan, Rome, Amsterdam, Moscow and London.
Codeshare With Finnair and British Airways: Copenhagen, Helsinki, Lisbon, Prague, Stockholm, Zurich, Nice, Lyon, Berlin, Dusseldorf, Hamburg, Munich, Stuttgart, Manchester and Newcastle.
Alliance oneworld
Qantas is a oneworld member and flies to Hong Kong. It can offer one-ticket passage to Europe via Hong Kong with the second leg flown by Cathay Pacific (see destinations above).
Airline Virgin Atlantic
From Sydney to London Heathrow.
Stopover tip Tsim Sha Tsui Promenade.
Walking the promenade is a stroll through Hong Kong's modern history. Start at the colonial-era clock tower, pass the Hong Kong Cultural Centre, the Hong Kong Space Museum, the Hong Kong Museum of Art, the Avenue of the Stars and on to Hung Hom.
The promenade also gives spectacular views of the Hong Kong Island skyline.
Baiyun, Guangzhou Airport, China
The anti-Changi. Not a lot to do, few facilities and little English signage. Online reviewers complain about a lack of cleanliness and friendliness as well as uncomfortable seats.
But Guangzhou is the hub to watch in years to come.
Airline China Southern
Guangzhou or Old Canton in southern China is the airline's main hub. China Southern also operates via Beijing and western gateways Chongqing and Urumqi.
From Sydney, Melbourne, Brisbane and Perth.
To Amsterdam, Paris and London.
Alliance SkyTeam.
Stopover tip Shangxiajiu Pedestrian Street.
This strip in Liwan District is more than 1200 metres of shopping. But it's the cultural showcase it affords that is so great. This is the home of Cantonese food and the restaurants along the street are cheap and fine.
Suvarnabhumi, New Bangkok International Airport, Bangkok, Thailand
Fun, friendly, full of stuff to do. The shopping is great at excellent prices and the airport flows well – just make sure you allow plenty of time to get to gates. It's a sprawling facility. Bangkok Airport also boasts some excellent food options.
Airline Thai Airways
From Sydney, Melbourne, Perth and Brisbane.
To Brussels, Copenhagen, London (Heathrow), Paris, Frankfurt, Munich, Athens,
Rome, Milan, Moscow, Madrid, Stockholm, Zurich and Oslo.
Alliance Star Alliance.
Stopover tip Chatuchak Market
Home decorators and collectors: prepare to hyperventilate. This massive retail mecca is a warren of wholesalers, offering everything from jewellery to fish tanks at crazy cheap prices. It's good quality stuff, too – a typical Bangkok knock-off market, this isn't.
If the urge to spend overwhelms, never fear: there are several bureaus on site that organise shipping, even by the container-full.
Kuala Lumpur International Airport, Malaysia
KLIA – Renowned for being efficient and friendly with great shopping, this is a clean, light and modern facility.
There are free internet terminals, good kids' play areas and the beautiful KLIA Jungle Boardwalk in the middle of the terminal, a rainforest attraction, great for getting a breath of fresh air.
Airline Malaysia Airlines
From Sydney, Melbourne, Brisbane, Adelaide and Perth.
To Amsterdam, Paris, London Heathrow and Frankfurt.
Alliance oneworld.
Stopover tip Islamic Arts Museum
Come to KL for the shopping, stay for the culture. The Islamic Arts Museum has one of the finest collections of Islamic decorative arts in the world. Here you will find pottery, textiles, jewellery and the superb Ottoman room, a recreation of a golden time.
Incheon Airport, Seoul,Korea
Not much to do if you don't like to shop, but in addition to loads of electricals for sale, there's free Wi-Fi, good showers and super efficient transfers in a well-planned setup.
Airline Korean Air
From Melbourne, Sydney and Brisbane.
To London (Heathrow), Vienna, Prague, Paris, Madrid, Frankfurt, Amsterdam, Zurich,
Milan and Rome.
Codeshare Alitalia, Air France, CSA Czech Airlines.
Alliance SkyTeam.
Airline Asiana.
From Sydney to London (Heathrow), Paris and Frankfurt.
Codeshare Qantas.
Alliance Star Alliance.
Stopover tip Changdeokgung Palace
Of the five palaces in Seoul, this is widely considered the best – and the one to visit if you can't do the lot.
Built in 1405, the UNESCO World Cultural Heritage Site is surrounded by a beautiful garden featuring centuries-old trees and a calming, hypnotic flow to its design.
The garden was laid out to work with the landscape surrounding the castle.
Narita International, Tokyo, Japan
No fuss, no stress, efficient and clean.
One of Narita's best features is the dayrooms, which have showers and beds, a great resource for resting during long connections.
There is free internet throughout the terminal and terrific shopping, particularly for electronics andcosmetics.
Airline Japan Airlines
From Sydney (JAL codeshares with Jetstar from Cairns).
To London (Heathrow), Moscow, Frankfurt, Paris and Helsinki (from February25).
Alliance oneworld.
Stopover tip Tsukiji Fish Market
Eating sushi in Tokyo is a must-do. Some of the best is at Sushi Dai, at the Tsukiji fish market, or the Tokyo Metropolitan Central Wholesale Market in central Tokyo, from where much of the city's fish is distributed.
More than 400 kinds of seafood are sold here. Get to the market early to see the auctions.
Dubai International Airport
Great for those who enjoy stepping over sleeping bodies during a walk to the gate that takes up to 15minutes, busy DXB always feels like the whole world has arrived at exactly the same time. The spectacular-looking T3 is set to open with the arrival of Qantas, so hopefully the overcrowded hostel vibe will be a thing of the past.
Huge upside going to Europe is the flight time carve-up: it's a 14hour-plus long leg from Australia to Dubai, from where you can be in Rome in five and a half hours.
Airline Emirates
From Melbourne, Sydney, Perth and Brisbane.
To Amsterdam, Athens, Barcelona, Birmingham, Copenhagen, Dusseldorf, Dublin, Frankfurt, Glasgow, Geneva, Hamburg, Istanbul, Larnaca, Liege, Lisbon, London Gatwick, London (Heathrow), Lyon, Madrid, Malta, Manchester, Milan, Moscow, Munich, Newcastle, Nice, Paris, Petersburg, Prague, Rome Vienna, Zurich, Venice and Warsaw.
Airline Qantas
From Melbourne, Sydney, Perth, Brisbane, Cairns and Adelaide.
Qantas owns aircraft to London (Heathrow). Codeshare with Emirates to destinations above.
Stopover tip Burj Al Arab
The sail-shaped structure cuts a beautiful figure on Dubai's Jumeirah Beach shoreline but it's inside the action really starts. One of Dubai's most iconic addresses, it is home to ''the only seven-star'' (as the Dubai folk like to boast) hotel in the world. AlMahara, the spectacular underwater seafood restaurant, is also onsite.
Abu Dhabi International Airport
Great duty free, but expensive food, limited seating and organisational issues for transferring passengers. Limited things to do, but free Wi-Fi is a plus. Airline Etihad Airways.
From Sydney, Melbourne and Brisbane (via Singapore).
To Brussels, Minsk, Paris, Berlin, Dusseldorf, Frankfurt, Munich, Athens, Dublin, Milan, Geneva, London (Heathrow) and Manchester.
Codeshare Air Berlin, Air France, Aerlingus, Alitalia, Czech Airlines, Brussels Airlines, KLM, Niki, SNCF, Flybe.com.
Need to know Virgin Australia operates its own aircraft from Sydney to Abu Dhabi, connecting to Etihad Airways services to Europe. Virgin Australia also codeshares on Etihad Airways flights, which depart from Sydney, Melbourne and Brisbane via AbuDhabi to Europe.