Nestled in between rugged cliffs to the north and beaches to the south on the island of Oahu, somewhere in the middle of the Pacific Ocean, is Honolulu, Hawaii's largest city.
The population of the metro area is just shy of 1 million residents, and though the entire city is not very large, even without leaving the city area, there are so many opportunities of places to go and things to see.
While there are many different things to do in Honolulu depending on your interests, here are 11 attractions that I think everyone who visits Honolulu should include on their itinerary.
Do you need a place to stay in Honolulu? Click here for great deals on accommodation.
1. Hanauma Bay
On the very east side of Honolulu, near an area of town called Hawaii Kai, is Hanauma Bay, one of the most famous places on the entire island for snorkeling.
The bay, sunken into a crater with a gorgeous stretch of golden sand, is a nature reserve and marine sanctuary.
When you arrive at Hanauma Bay, you're normally required to watch a short video about the marine life and the preservation of it, and you can then take the short 5 minute hike to the bottom of the crater to get to the beach and get in the cool clear water.
If you're interested in snorkeling while you're in Honolulu, Hanauma Bay is the place to visit.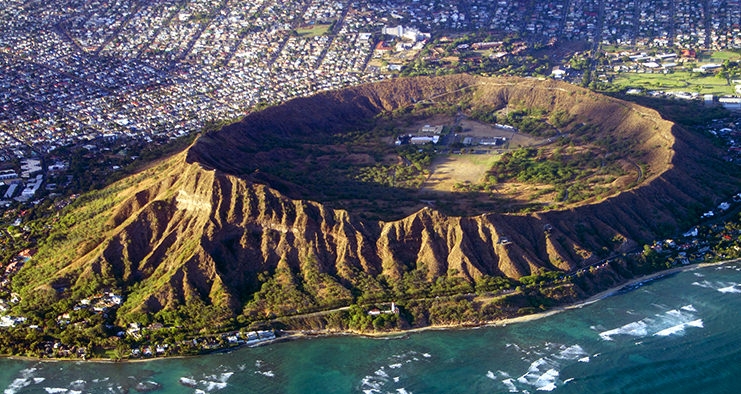 2. Honolulu Chinatown
Like all Chinatowns in the world, Honolulu's Chinatown is an always bustling, energetic market section of the city.
It's not quite as chaotic at Chinatown in Bangkok or Manila, but even though it's small, it still has that same thrilling rushed market feel to it.
The smell of fruits and vegetables and the aroma of fresh fish and meat fill the air in Honolulu's Chinatown, just as they do in other Chinatowns around the world. You'll find great prices on produce, and you'll find the fruits and vegetables you need to make whatever type of Asian food you want.
I even saw a fresh (not frozen) pile of durian when I was walking around last time!
Along with fresh market foods to purchase, there are also an abundance of delicious restaurants throughout Honolulu's Chinatown. Within Maunakea Marketplace you'll find Filipino and Thai food, and on the outskirts of Chinatown you should not miss Char Hung Sut – a takeout restaurant that sells legendary Hawaiian style Cantonese dumplings and baozi (manapua).
Exploring and eating through Chinatown is one of the top attractions in Honolulu.
3. Diamond Head
If you love to get outdoors, do some exercise, and enjoy stunning panoramic views, hiking is one of the best things to do in Honolulu.
There are quite a few good hikes right in the Honolulu area, some of them a bit outside of the city limits, but others are right in the city.
Diamond Head is the iconic former volcano that stands proud at the far eastern side of Waikiki, and is often an emblem of visiting Honolulu. The volcano provides a great backdrop to all your beach photos from Waikiki, but the view is even better when you're on the very top of it.
The Diamond Head crater was formerly used as military base on Oahu, but is now open to the public for recreational use. The hike is just under a mile in length, and takes about 20 – 30 minutes to reach the summit.
At first the trail is easy, then you come to a series of switchbacks where you start gaining elevation, and finally towards the end, you pass through a military tunnel, go up a few flights of stairs, and emerge through a bunker.
The views of Honolulu are great!
4. Ocean Sports
Hawaii is one of the world's headquarters when it comes to surfing and other ocean water sports. The climate is great, the water is cool but not too cold, and the waves, depending on which beach you go to, can range from small to huge.
The north shore of Oahu is especially famous as one of the world's greatest surfing destinations, but right in Honolulu you'll find some great spots to surf, bodyboard, stand up paddleboard, or any other ocean sport you're interested in.
Waikiki, Ala Moana Beach Park, Kakaʻako, Diamond Head, and Sandy's are all great places to take to the water and enjoy whatever water board sport you love, all without leaving Honolulu.
5. Honolulu Zoo / Waikiki Aquarium
Located on the east side of Waikiki is the Honolulu Zoo.
The zoo is spread out over 42 acres and is home to 905 different animals, most of the them natives of tropical climates. Don't miss the komodo dragon or the orangutan!
Along with the diversity of different animals at the Honolulu Zoo, the grounds are also neatly designed with many different lush tropical gardens, showcasing a variety of native Hawaiian plants and flowers.
The Waikiki Aquarium is just down the road from the Honolulu Zoo, and while it's quite small, it's a good place to learn about the local marine life in the oceans of Hawaii, and a chance to see the playful Hawaiian monk seals.
Especially if you have kids, visiting both the zoo and the aquarium in Honolulu makes for a fun day activity and attraction in the city.
6. Iolani Palace / Downtown Honolulu
Iolani Palace is a historical landmark in downtown Honolulu that was originally built in 1879 by King Kalakaua.
The palace was constructed in an effort to make Hawaii become more prestigious and more recognized as a nation throughout the world. It was initially known as Hale Alii, but King Kamehameha V changed the name to Iolani.
The palace is now open to the public for both self and guided tours. The first and second floors include a series of elegant greeting rooms like the Grand Hall, the Throne Room, and the Blue Room. The second floor of the Iolani Palace is home to the King's private suites, and also the famous Queen Kapiolani's suite.
The palace is beautifully restored and decorated with luxurious interior designs and furnishings. For a peek into the history of royal Hawaii, Iolani Palace is well worth a visit.
Also, when you're in downtown Honolulu, be sure to check out the other important buildings in the area like the Hawaii State Capitol.
7. Manoa Falls
While Diamond Head and Koko Head, two amazing hikes in Honolulu, are dry hikes, Manoa Falls is a lush green jungle hike.
It's actually not so much of a hike, but more of a 20 – 30 minute walk through the dense tropical forest with a pretty nice waterfall at the end of the trail.
Hiking Manoa Falls is a good chance to stretch your legs and see some of the beautiful plants and trees of Hawaii. Though there's a sign and rope around the pool at the bottom of the waterfall with a warning to be cautious of falling rocks, many people take a quick refreshing swim in the beautiful water.
Entrance fee: They charge $5 for parking, but if you park down the street and are willing to walk a bit to get in, you can avoid the fee all together.
8. Waikiki
Occupying a long stretch of the coast on the south shore of Honolulu, is the famous area of town known as Waikiki. It's the main touristy area of town where there's a sea of high rise hotels and resorts that line the beach, nearly all the way from the Honolulu Zoo to Ala Wai harbor.
Even if you're not staying in Waikiki, you can still visit the area, take walks along the beach, go shopping or dine at one of the many restaurants. For breakfast be sure to stop by the well known Eggs 'n Things restaurant, and you're looking to taste some awesome local Hawaii style food right in Waikiki, here's a place you'll want to eat at.
Also, right next to Waikiki is Honolulu's largest shopping mall known as Ala Moana Center, a gigantic shopping destination. You'll find mostly designer and higher end stores, but there are also plenty of other stores to browse around and many restaurants to eat at. Ala Moana is the epicenter of shopping in Honolulu.
9. Local Hawaii Food
As a person who travels to eat, food is always a part of my list.
But Hawaii holds a very dear spot in my heart for its food because Hawaii is where I learned to love food from the beginning.
My mother, being from Hawaii, my grandfather having been a Chinese chef in Honolulu all his life, and like just about everyone else on the islands, myself and my relatives… we just love to eat.
Sampling the diverse selection of food available in Honolulu is an always entertaining activity that is guaranteed to satisfy your belly.
One thing you should for sure try is Hawaiian food. You can either head to Helena's, a famous Hawaiian restaurant, or I tried the Hawaiian plate from People's Cafe which was excellent. Make sure you try laulau, kalua pig, and poi, a taro paste which is the staple of Hawaiian cuisine.
For other local Hawaii food make sure you try poke, plate lunches, a loco moco, and SPAM musubi, just to name a few.
If you love Asian food as much as I do, you're going to love everything there is to eat in Honolulu. Chinese, Japanese, Korean, Filipino, and a few Thai restaurants are scattered throughout the city.
10. Pearl Harbor, USS Arizona
Pearl Harbor, and more specifically the USS Arizona, is not so much an attraction in Honolulu, but rather a memorial.
It was on the morning of December 7th, 1941, when Japanese aircraft made a surprise bomb attack on the US ships anchored in Honolulu's Pearl Harbor. During the deadly attack, many lives were lost, and many ships were destroyed. It was after this attack, when the US declared war on Japan and entered into World War II.
When you arrive at Pearl Harbor and the USS Arizona Memorial, you get a ticket with a time on it. When it's your turn, you meet your group and first watch a 30 minute film which explains the history of what happened at Pearl Harbor – I thought the video was concise and provided good insight into the memorial.
After the film, you board a ferry for a short 5 minute ferry ride to the USS Arizona Memorial, which is a white platform that floats above the sunken ship. You spend about 15 minutes on the platform, respecting the location and the events that happened right there years ago.
Getting There:
Honolulu International Airport is the principal aviation gateway of the City & County of Honolulu and the State of Hawaii and is identified as one of the busiest airports in the United States, with traffic now exceeding 21 million passengers a year and rising.
It is located in the Honolulu census-designated place three miles (5 km) northwest of Oahu's central business district.
Main roads leading to the airport are Nimitz Highway and the Queen Liliuokalani Freeway of Interstate H-1.
Honolulu International Airport serves as the principal hub of Hawaiian Airlines, the largest Hawaii-based airline. Hawaiian Airlines offers flights between the various airports of the Hawaiian Islands and also serves the continental United States, Australia, New Zealand, American Samoa, Tahiti, Japan, China, and South Korea. It is host to major United States and international airlines, with direct flights to North American, Asian, and Pacific Rim destinations.
In addition to services to most major western cities and many smaller gateways, especially in California, the airport has succeeded in attracting long-haul services to the East Coast including the recently added destinations of Toronto-Pearson and Washington-Dulles, which have joined established services to Atlanta, New York-JFK and Newark.