Economy class is rarely described as comfortable, and the shrinking size of airplane seats is something travellers have mostly come to accept.
But some airlines are worse than others, so Airfarewatchdog polled U.S. fliers, asking "which domestic airline has the most comfortable economy class seats?" More than 1,700 fliers responded, revealing the least-bad options for budget air travel.
1. JetBlue – 21%
"Apparently, even one or two inches makes all the difference.
JetBlue is famous for giving passengers more legroom than any other domestic airline in all economy class seats, so it's no surprise that consumers recognize them as having the most comfortable seating," said Airfarewatchdog founder and president George Hobica. "Even with recent reductions in seat pitch, JetBlue still offers a minimum of 33 inches between seat rows."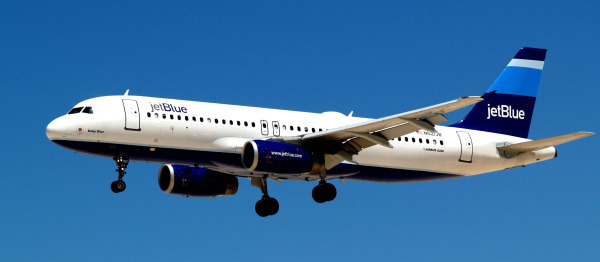 Seat Pitch
Seat pitch is the distance between the same two points on two seats.
Economy class on airplanes in the U.S. ranges between 29 and 34 inches of seat pitch.
2. Alaska – 17%
The 32-inch seat pitch on Alaska Airlines' 737 planes probably contributed to its ranking, however the airline plans to add "slim-line seating" to its new planes, said Hobica. That could hurt future rankings.
3. Hawaiian – 14%
Hawaiian Airlines economy seats have seat pitches between 30 and 32 inches, according to SeatGuru.
Considering their flights are often longer than many routes in the 48 contiguous states, comfiness on Hawaiian is important.
4. Frontier – 13%
Seats on Frontier have a 30-31 inch pitch and 18-inch width.
5. Allegiant – 8%
Economy class on Allegiant offers only 30 inches of seat pitch, according to SeatGuru, but its seats still ranked above many other airlines.
6. Southwest – 6%
The non-exit row seats on Southwest have a seat pitch of 32 to 33 inches. If you're lucky enough to get the window behind the exit row on some planes, however, you can stretch your legs out to your heart's desire.
7. AirTran – 6%
AirTran's Boeing 717s have a seat pitch of 30 inches, while the 737's have 31 inches.
8. Delta – 5%
Many of Delta's economy class seats have a seat pitch of 31 inches, although the fleet varies widely.
9. United – 3%
Like similar domestic carriers, economy class on United offers a seat pitch of 31 inches.
10. Spirit – 3%
Airfarewatchdog's Hobica said it was a surprise that Spirit wasn't last on the list. The low-cost carrier is known for cutting corners, not comfort.
Spirit's CEO Ben Baldanza has taken comparisons of the airline to a public bus as a compliment.
11. American – 2%
"American and most other airlines have reduced seat pitch to 31 inches in their 737s, placing them near the bottom," said Hobica.
12. US Airways – 2%
US Airways' planes have a seat pitch between 31 and 32 inches. Even though that's more than carriers like Spirit, the seats' comfiness is ranked as last in the poll, after being adjusted for airline size.