Travellers from around the world come to see the Grand Canyon, but Arizona has so much more to offer visitors. Scott Craven of The Arizona Republic shares inside tips on five must-see places in the state.
Grand Canyon National Park
When it came to creating the perfect license-plate slogan, Arizona officials likely needed all of 20 seconds to agree on "Grand Canyon State" (and making a mockery of Idaho's slogan, "Famous Potatoes").
Why: Hmm, let's see. Maybe because it's one of the scenic wonders of the world? Or because some people spend thousands of dollars to get there, while you live a tank of gas away?
Money best spent: Head to the El Tovar Lounge. Order drinks and appetizers, and enjoy an amazing sunset while chuckling at the sunburned, sweat-stained visitors returning to the rim after seriously overestimating their physical abilities.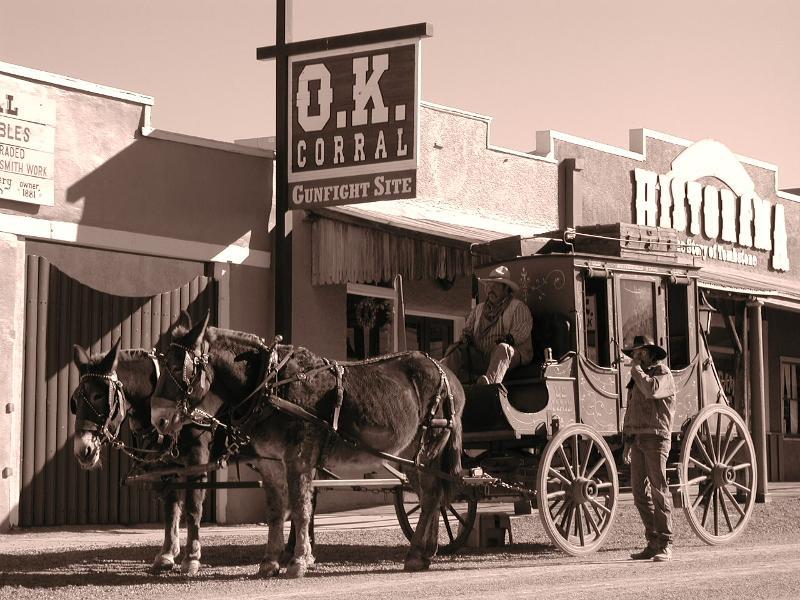 Tombstone
Imagine the 1880s frozen in time, where tough-looking men wearing dusters fit right in.
The frontier facades are largely original, the souvenir T-shirts, mugs and refrigerator magnets are not. Still, there is an Old West charm found nowhere else.
Why: It is the perfect blend of historical and tacky. Visit the OK Corral and Historama to hear Vincent Price's dramatic retelling of the shootout, then have a beer (or root beer) at a frontier bar.
Money best spent: $10 to see the Bird Cage Theater Museum, a former brothel that has been preserved, not restored (as guides remind visitors). The tattered nature of the museum is as endearing as it is honest. It's OK when something shows its age.
Details: tombstoneweb.com.
Prescott
If the United States held an America's Best Hometown contest, Arizona's entry would likely be Prescott.
It has all the requisites: quaint downtown (Courthouse Square), area committed to adult beverages (Whiskey Row) and exuberant small-town celebrations (Christmas and Fourth of July are particularly popular).
Why: The town has charm as well as a more amenable summer climate, when temperatures can be 15-20 degrees cooler than the Valley's.
Money best spent: For $5, you can own a Bill's Grill T-shirt featuring an asymmetrical being of indeterminate gender wearing a hat and carrying a burger. The food is pretty darn good, too.
Details: visit-prescott.com.
Monument Valley Navajo Tribal Park
You've seen it on TV and in theaters. You can't look at the towering rock formations without thinking of John Wayne, cattle drives or insensitive portrayals of Native Americans.
But you know what's even better than seeing Monument Valley on the big screen? No, not IMAX.
Why: Two words: endless vista. The minute you see the Mitten formations, you understand why everything from Westerns to Roadrunner cartoons were shot (or drawn from) here.
Money best spent: The $159 (or more) for a room at the View, one of the most aptly named hotels ever (and the only hotel inside the park). Steep for such a remote location? You'll understand when you watch sunset, get a restful sleep and be up in plenty of time to watch the sunrise.
Details: navajonationparks.org/htm/monumentvalley.htm.
Walpi Village
The ancient village on the Hopi Reservation first appears as if a natural part of the stony ridge 300 feet above the valley floor.
Walpi is one of North America's oldest continuously inhabited villages. Or so many people believe. More on that later.
Why: Walpi offers a rare insight into Hopi life as well as unmatched vistas. It is an authentic, only-in-Arizona experience, rich in culture and history.
Money best spent: Hopi artists are happy to engage visitors, displaying pots, jewelry and more on small tables.
The handcrafted items are by no means cheap, given the talent and time needed to create them. But you will save money by dealing directly with the artists, rather than buying in stores or galleries elsewhere. About 20 years ago I passed up the opportunity to purchase a kachina carving for $75 and regret it to this day.
Getting there:
Phoenix–Mesa Gateway Airport formerly Williams Gateway Airport is in the southeastern area of Mesa Arizona, and 20 miles (32 km) southeast of Phoenix, in Maricopa County, Arizona.
The airport is owned and operated by the Phoenix–Mesa Gateway Airport Authority, and is a reliever airport for Phoenix Sky Harbour International airport. It is a focus city for Allgiant Air.